The Rope of Hope (At The End of My Rope)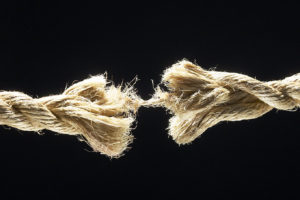 Hope is a very powerful force.
It has been said that man can live for, maybe, 40 days without food, perhaps 3 days without water, about 8 minutes without air, but only for one second without hope.  In the past few weeks I have become increasingly aware of the number of people who seem to be in hopeless situations, feeling that their situation will never improve, that there is no solution to their problems, that there are no answers to their questions, and are struggling to find hope.
Many times I have heard someone say, "I'm at the end of my rope, and I don't know what to do."
The usual answer that is given is, "Well, just tie a knot in it, and hang on."  That's so easy to say, but often much more difficult to do.
At the end of our rope, we struggle to find hope.  Down to the last strand of our rope, and that strand is getting very thin.  Why is this happening to me?  Where do I turn?  What can I do?  How can I go on?  Where can I find help?
Trying to find hope, not just for tomorrow, trying to find hope for today.  So many questions, so few answers.
It's putting it mildly to say, life can sometimes be difficult.  As we grow older, two things become increasingly apparent: Life is uncertain, and life is unfair.  As humans, we want answers to life's questions.  We want reasons.  We want explanations.  We want things that happen to us, to make sense.  We want to know the answer, "Why?"  When things happen and we can't find the answers, frustration sets in and we slide into a deep, dark whirlpool of discouragement, disillusionment, and even depression.
Several weeks ago I, literally, felt that I was at the end of my rope.  Things had not made sense, and I had so many questions that had no answers.  In my hours and days of processing, I found no answers to my questions, but I did find something, something that shifted my focus.
I found that the end of my rope is just the beginning of God's rope.
In my quiet time with God, I was reminded of trapeze artists.  You may have seen performances by them, and observed how they so easily and effortlessly seem to fly from swing to swing.  For them to take hold of another swing, there is something they have to do, every time.  When they grab the next swing, they must release the swing they are holding.  They cannot hold to both.  The moment that the transition occurs can be frightening.  Yes, very scary, however, trying to hold to both can be even more frightening.
The end of my rope is the beginning of God's rope, but for me to take hold of God's rope, I must release my rope.  It's not just simply tying a knot in it and hanging on, it's releasing everything in my grasp, to grab hold of something that is so much more powerful.
You see, there is no hope in my rope, or your rope, but God's rope is full of hope.  God has plans to give you hope.  But not just hope, a future.
For I know the plans I have for you, declares the Lord, plans to prosper you and not to harm you, plans to give you hope and a future.  Jeremiah 29:11
There is surely a future hope for you, and your hope will not be cut off.  Proverbs 23:18
If you feel that you're at the end of your rope, perhaps you can see the last strand, and you've tried to tie a knot in it and hang on, but it's just not working, let me offer you a suggestion; take hold of God's rope.  To do that completely you must release your rope.  Let go, and let God.  I won't say it will be easy, and it may be quite scary, but rest assured God's rope is full of hope, and He will pull you through.
I pray that God, the source of hope, will fill you completely with joy and peace because you trust in Him.  Then you will overflow with confident hope through the power of the Holy Spirit.  Romans 15:13
Still believing!